October 2020
Rebuilding – when your relationship ends
Based on the #1 trusted resource on divorce recovery, the Rebuilding Group offers an opportunity for men to rebuild themselves from the ground up after separation or divorce. The group follows Fisher's "divorce process building blocks" to aid men in healthy and less traumatic approach to healing in a supportive and group environment.
No referral required to register.
$20 course fee
Books not supplied. Available at Mosiac Books $29.
Thursdays Oct 15th –  Dec 3rd
6 pm – 8 pm  via Zoom
Call 250-860-3181 to register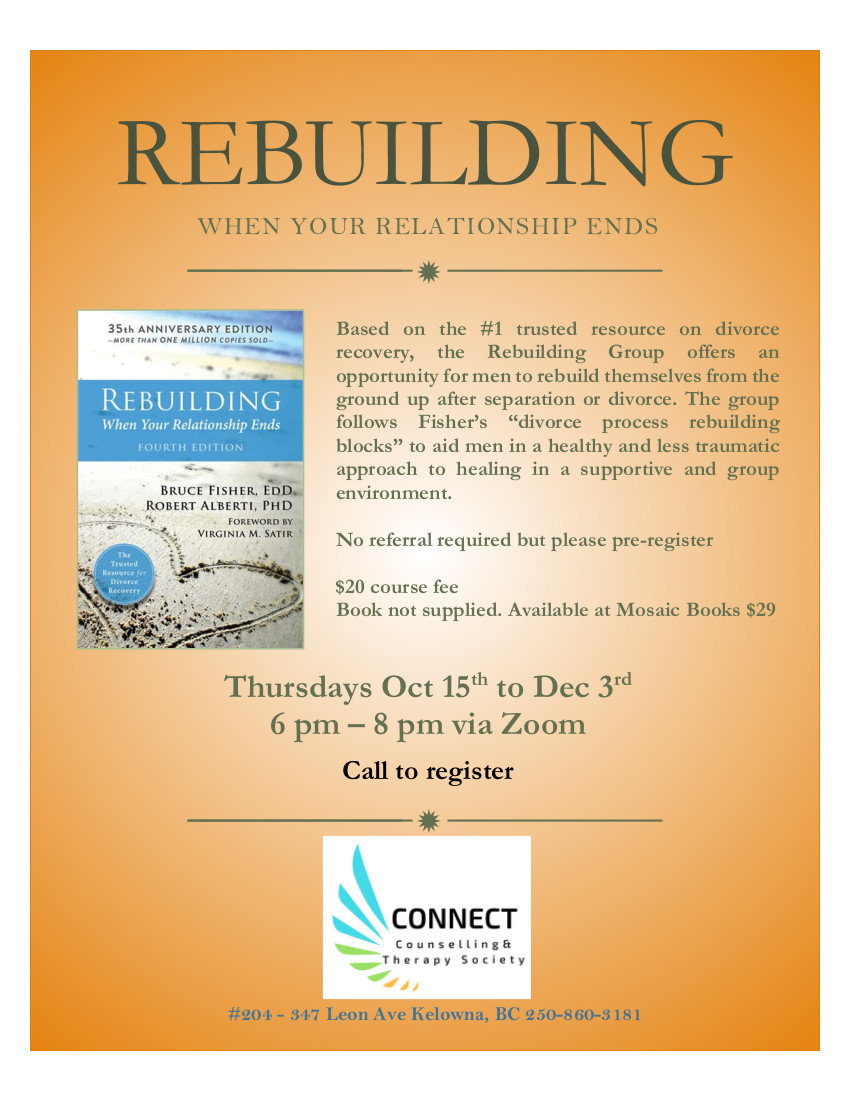 ---
June 2020
"Men impacted more than we think by ongoing self-isolation " 
As we know, spending much more time at home, as directed during the current Covid-19 public health crisis, has led to a surge in domestic abuse cases. A 35% increase in calls to local services has been noticed since effective lockdown in the second week of March. This is reflected across our Province, Canada and the world. There has been much focus on securing additional resources and support, rightly so, for the women who are experiencing increasing intimate partner violence of any kind.
But what can communities be doing to also support men during this pandemic, ideally before it gets to the stage when they crack? Social isolation and a radically changed routine plus increasing financial pressure for many, is raising stress levels, anxiety, and depression to a level that many men will never have experienced before. Some of the more traditional ways men de-stress like playing team sports, hanging with guy friends for a beer after work, sharing mutual love of their favorite major league team, are simply not there right now. The intersection of men, masculinity, and mental health is being forced into the spotlight with men being "trapped" in the home for this length of time. They need to know there is support out there in our community and that it is easy to access without stigma.
Sam Yasinski a tech start up entrepreneur and former bartender from Kelowna says "Now more than ever we need to widely promote a culture which disrupts the narrative around silent suffering and the expectations for men to always be strong, stoic, and silent."
The traditional image of "therapy" still scares so many men. While so much of the world is designed for the comfort and benefit of men, there is still a belief that the world of counselling is not. The thought of a couch, a box of Kleenex, a teal colored room and some early questions about their mother will send them running for the door. Most want to hear specific and achievable goals for treatment, and straightforward descriptions of the therapy process and how it works. The use of memorable language for transparency from therapists eases their distrust of the process. One participant in a study of this said  "If you just tell me…like 'dude, you're a bit messed up, you need about ten sessions, around $100 each, that's 1,000 bucks,' then I'd be like, 'Cool Bro.' I'd budget for that,"
Connect Counselling in Kelowna offers drop-in, group & individual men'' counselling sessions and is seeking to increase the availability of these to support more local men and boys during the Covid-19 crisis and beyond. They are hoping that community relief efforts will also invest in longer term needs like this.
"We have seen such successful outcomes with the mens' groups we have offered in the past and we know the need is out there for more. We need to ensure all local men experiencing increased stress and anxiety reach out, irrespective of the financial resources they may have right now" said Roxie Van Aller, Executive Director of Connect Counselling & Therapy Society in downtown Kelowna.
Connect is launching its "$130 for 130 Men Matter Too" campaign in which it will invite donors and corporate sponsors to help support free counselling services for 130 additional men in need by the fall. Many in our community are seeking ways to directly help those affected by this crisis. A $130 donation will support one local man through 8 weeks of drop-in group counselling or 2 individual private sessions, and the need is growing. There is already a waitlist for services and it will increase significantly as this pandemic continues to disrupt daily life. For more information on how you or your business can help, go to https://trellis.org/men-matter-too
If our community can push forward in its awareness of the unique mental health needs of men and boys, it's important to remember that the positive impact is not just about the men. Part of why this work is so important is that our fates are linked. When men suffer in silence at times like these and end up perpetrating domestic violence, or fall victim to substance abuse or suicide, it's usually women and girls who are left to pick up the pieces. So this is really about creating healthier families and communities and creating better mental health for everybody. Both during the Covid-19 pandemic and once we start coming out the other side of it.
Connect Counselling & Therapy office open Monday-Friday 250-860-3181, #204-347 Leon Ave with online services available by appointment anytime www.connectcounsellingsociety.ca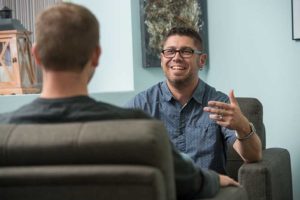 ---
March 2020
To our community of clients,
OFFICE CLOSURE: EFFECTIVE MONDAY MARCH 23, 2020
With the concerns of COVID-19, we are taking steps at Connect Counselling to ensure that all our clients (and us!) continue to have a safe and positive experience.
Until further notice our office will be closed to the public. We will be providing opportunities to connect with us via phone and/or secure web-based platforms for appointments.  If you are scheduled for an appointment already, we will contact you to check to see if you would prefer a telephone or web-based platform session. We will continue to receive new referrals and are committed to connecting with you at your allotted time.
We will work hard to make this process as smooth as possible.
If you have any COVID-19 symptoms, please contact the nurse's hotline at 811 or your primary care provider to arrange for safe testing.
During this time, our primary focus is to continue to provide counselling while heeding the recommendations of BC Health Officials and help to stop the spread of the coronavirus.
Thank-you to everyone who is making the effort to stay safe and keep others safe.
---
February 2019
A huge congratulations to Connect Counselling & Therapy Executive Director, Roxie Van Aller, for her impactful speech at 100 heroes' quarterly meeting last night. Roxie was awarded a $10,000.00+ donation from the group. Thanks to Brett Wilson, known for his role on Dragon's Den, and Jaguar/Landrover dealership for contributing an additional $10,000.00+ to support the other charities at the event. What a night!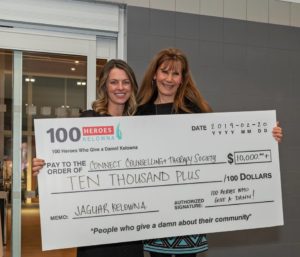 January 2019
Thank you to everyone who attended "Curl for a Cause" on Sunday, January 20th! We raised $450 for our Children's Lowering Anxiety group! A special thanks to The Kelowna Curling Club for their ongoing support!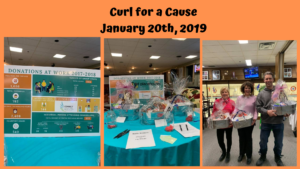 ---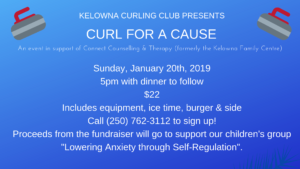 November 2018
Thank you to everyone that came out to support Connect Counselling & Therapy at Curl for a Cause! We raised approximately $600 for our Men in Change group! Our next Curl for a Cause will be January 20th, 2019 in support of children who suffer from anxiety!
---
Connect Counselling & Therapy is partnering with the Kelowna Curling Club for:
"Curl for a Cause"
November 25th @ 5:30pm
It's a great opportunity to come out and curl for only $22.00. This includes equipment rental and burger/drink. $5.00 for from each burger/drink goes to supporting our Men in Change drop-in group.
This group provides men with a safe place to make changes as they challenge societal norms of what is means to be male, and develop skills to deal with difficult emotions. Themes include: Unfairness, Boundary Work, Respectful Communication, Family Conflict, Solution-focused Work, Managing Anger, Emotional Intelligence, Shame and Resiliency and Building Sense of Self.
This group is a weekly drop-in group is co-lead by a male and female professional counsellors at Connect Counselling.
Call The Kelowna Curling Club at  (250) 762-3112 to sign up! Come out and have fun!
September 2018
Effective September 24th, The Kelowna Family Centre will be doing business as "Connect Counselling & Therapy Society". We will continue to offer the same great services with our talented group of professional counsellors. Contact email: connectcounselling@shaw.ca; phone and fax will remain the same.
2017
---
Lisa Binnie, Executive Director of the Kelowna Family Centre & Chairperson of the Violence Against Women in Relationships committee (VAWIR), speaking at Open Doors, a transgender workshop exploring solutions to the issues and challenges faced when working with transgender individuals (sponsored by WorkBC & Kelowna VAWIR). Guest speakers were Dr. Trevor Corneil, VP Population Health and Chief Medical Health Officer of Interior Health, and Davina Kula, Director of Education, Okanagan Pride Society. The workshop was attended by several team members of the Kelowna Family Centre.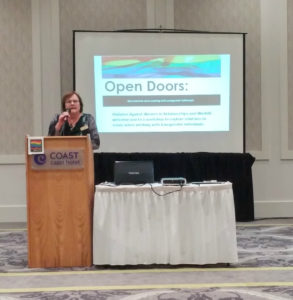 March 2017
The Kelowna Family Centre was an exhibitor at the Immigrant Services Fair in Kelowna on Saturday, March 25th.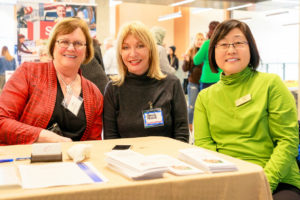 L to R: Lisa Binnie, Executive Director; Sandi Fryer, Board Member; Joyce Eng, Counsellor
January 2017
100+ Women Who Care KELOWNA donation
In January, the Kelowna Family Centre was chosen to be one of three presenting organizations at the 100+ Women Who Care Kelowna quarterly meeting. Lois Hansen, Clinical Counsellor at our Centre, gave a fabulous presentation of the value of our organization to the community. We are pleased to announce that the Kelowna Family Centre received the most votes and were presented with $6,300.00. We are extremely grateful for this donation.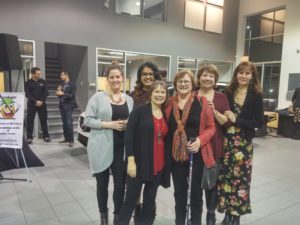 December 2016
The Online Silent Auction has ended. Thank you for your generosity and best wishes for a wonderful holiday season from the Kelowna Family Centre family.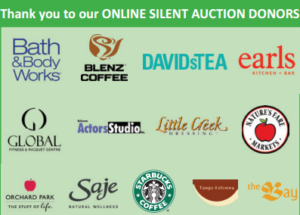 Thank you to our media sponsors for their support: